What is RAW?
Did you know there is an estimated 1.1 million pet rabbits in the UK? Despite being one of the nation's favourite animals, there are still many misconceptions about the species, and the proper ways to care for rabbits.
That's why, 15 years ago, we launched the very first Rabbit Awareness Week. We are dedicated to improving the health and welfare of animals through research and education, and RAW is a great opportunity to spread the word about rabbit welfare.
This year, on our 15th anniversary, our theme is 'Hopping through the years'. We'll be discussing how to adapt your rabbits' care throughout their lives. Starting with preparing to bring your rabbits' home, we'll discuss all things junior rabbits, into their adult years, and finally how to care for your old age buns, or OABs!
All of our RAW activities will be taking place over on our RAW Facebook page and Instagram page. Like and follow today to stay up to date with all the action.
RAW is endorsed by the British Veterinary Association and British Small Animal Veterinary Association. Our charity partners will be helping us along the way during this jam-packed week of activities. We are also supported by Blue Cross, PDSA, RSPCA, RWAF, and Wood Green, the Animals Charity.
What to expect throughout RAW
Are you a prospective rabbit owner? Or a veteran in all things bunny? Is your baby bunny entering adulthood, or is your rabbit heading for their golden years? We've got lots of great information, handy tips, and exciting content for you.
Each day of RAW we will be covering the life stages of your rabbits, with a day dedicated to rabbit rescues.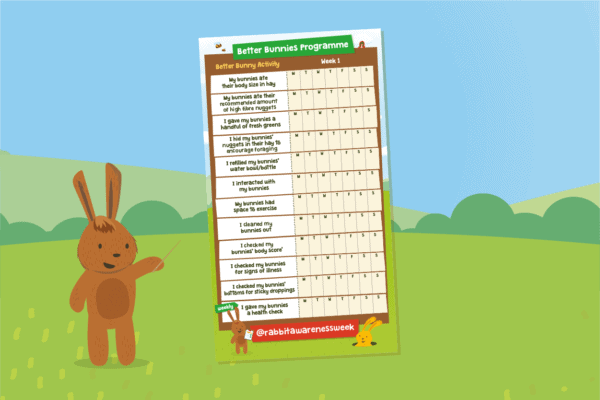 The Better Bunnies Programme
Don't forget to download our Better Bunnies Programme this RAW! The programme includes the key responsibilities you should complete each day with your rabbits. It takes you through feeding, including making sure your rabbits are getting enough hay, their environment, and vital health checks.
Download it today as part of the RAW packs.
The 5 Welfare Needs Of Rabbits
Throughout your rabbits' lives, the five welfare needs are the key to helping them stay happy and healthy. At different life stages, you may need to slightly adapt how you meet these vital needs, but the principles will always remain the same. Click on the icons below to discover more.
Download your RAW pack
Get involved with Rabbit Awareness Week 2021 and download your RAW pack today.
I am a Vet
Download your Rabbit Awareness Week vet pack, perfect for a rabbit friendly practice.
I am a Rescue Centre
Help us spread the word about the best rabbit care by downloading your RAW pack.
I am a Retailer
Spread the word to your customers with our RAW pack made specially for retailers.
I am an Owner
Get involved with our RAW packs, perfect for owners of brilliant bunnies!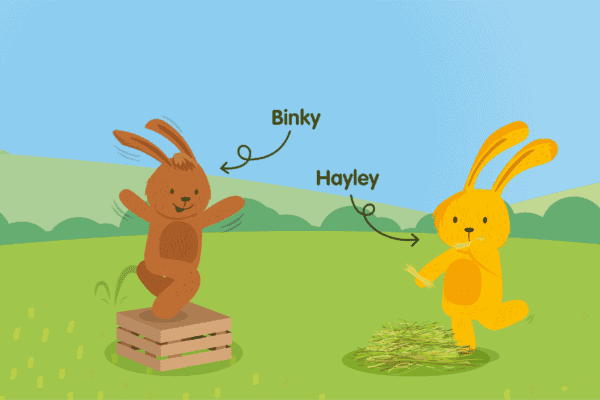 Meet Hayley and Binky
Hayley and Binky here! We're the Excel rabbits and we'll be popping up throughout RAW. Keep an eye out for us as we help give an insight into how to support us rabbits throughout our lives.
Plus this year, there's someone very special we'd like you to meet! Henry is our lovely OAB (or Old Age Bun). He's a golden oldie, although a bit slower than us adult buns, he still loves to eat lots of yummy hay and to binky. You'll meet him properly on our RAW day dedicated to senior rabbits.