The Guide to Rabbit Housing
Where do rabbits live in the wild?
In the wild rabbits live all over our countryside landscapes. Rabbit habitats can cover farmland, grassy lands, and moorland. You can even sometimes spot them in your garden. Living in large groups, rabbits live in warrens, large underground tunnel systems. Rabbit warrens vary in size, with one study finding a 5-year-old rabbit warren that had 150 entrances and had an incredible 517 metres of tunnels.
In the domestic setting, pet rabbits can live either indoors or outside. Either environment is suitable for your rabbits, as long as they have access to everything they need to stay happy and healthy.
For more information on indoor and outdoor set ups, check out our help guides.
Rabbits are social animals. In the wild, a group of rabbits is called a colony, or a fluffle! In these groups, there can be between 10-50 rabbits. Our pet rabbits also need to live in suitable pairs or groups. Companionship is important to our bunnies, and they'll love living with a friendly fluffy face. Rabbits should only ever live with other rabbits, and they should both be neutered to prevent unwanted litters.
Indoors or outdoors: Where should my pet rabbits live?
Whether your rabbits live indoors or outdoors, the fundamentals of great rabbit housing are the same. The Rabbit Welfare Association of Fund recommends a minimum enclosure size for two bonded rabbits is 3m x 2m x 1m high and that your rabbits have access to their sleeping area, toilet area, and exercise area at all times.
Fundamentally, a rabbit hutch is not enough. Whether you have an indoor rabbit hutch, or outdoor, your rabbits need more space. There are lots of rabbit hutches for sale, however, it's vital to make sure that whichever housing you choose, it meets the size requirements your rabbits need.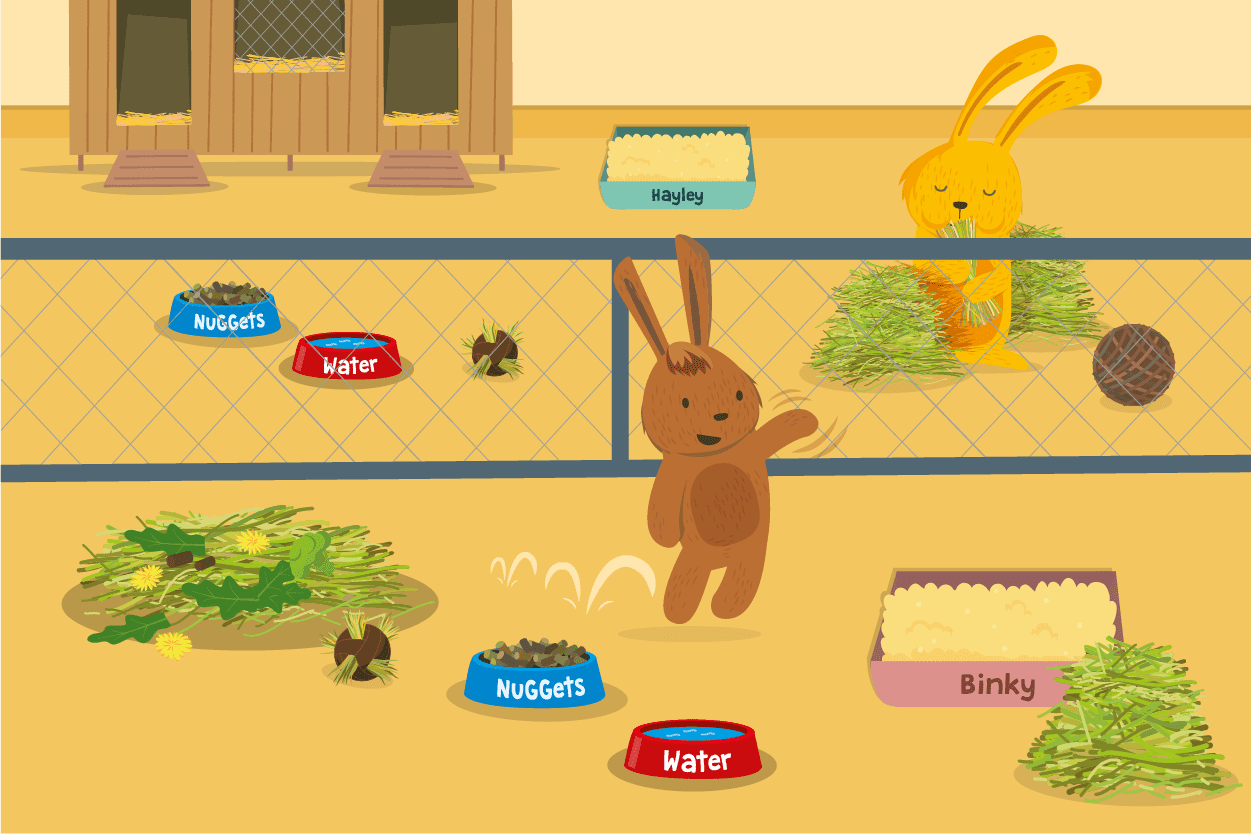 What do I do if I already have a rabbit hutch?
If you already have a hutch the best way to give your rabbits their space is to adapt it! You can build a great rabbit house yourself. They need constant access to their exercise area, like a rabbit run. An easy way to connect the two is using rabbit tunnels or a doorway, so your bunnies can hop in and out whenever they like. There are lots of connection options available, for example, Runaround has some great
rabbit door and pipe options
.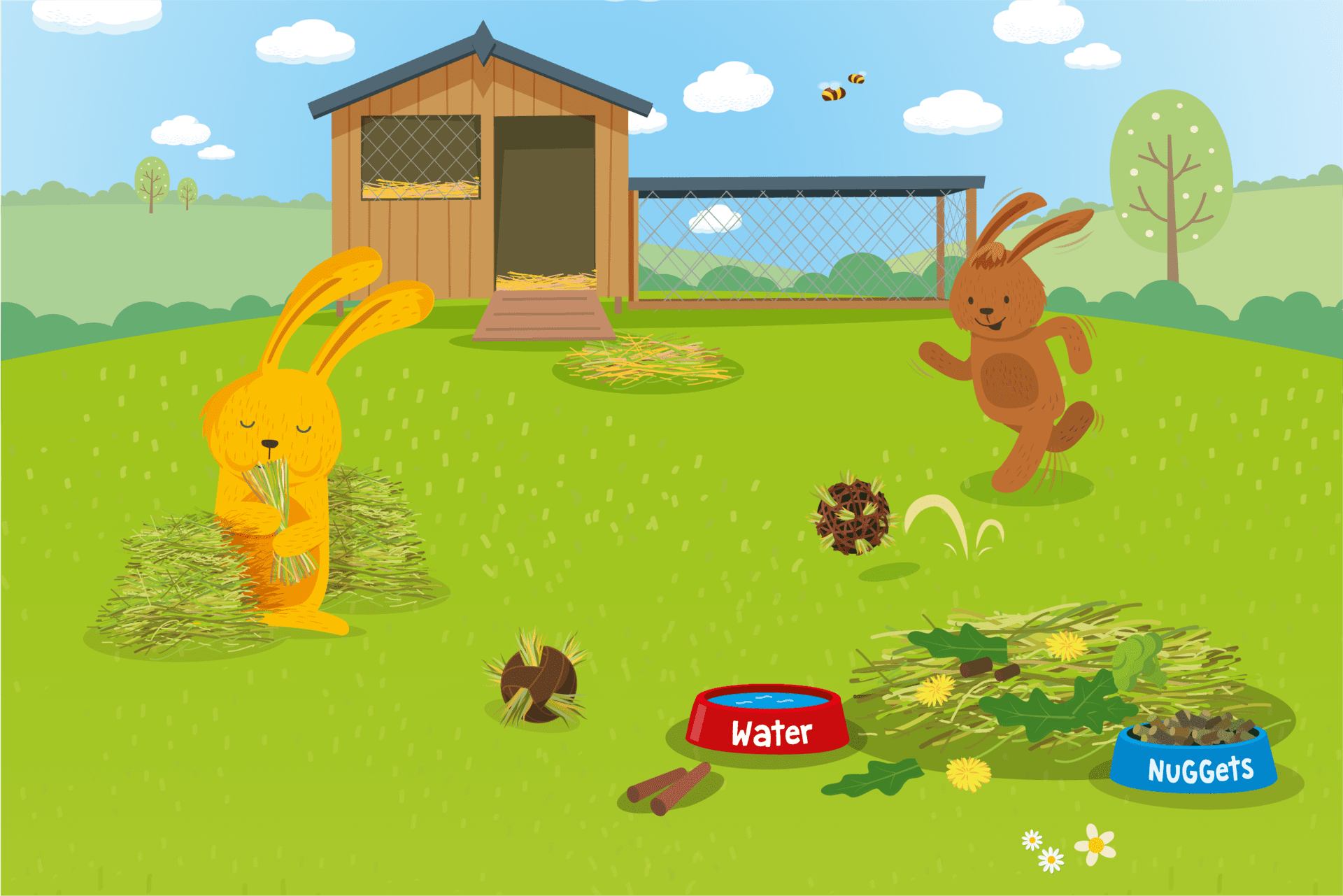 Why do rabbits need so much space?
The housing requirements for rabbits are there for a reason. Your rabbits should be able to lie stretched right out and hop at least three times. Their space allows them to display all the great natural behaviours our rabbits have including:
The housing requirements for rabbits are there for a reason. Your rabbits should be able to lie stretched right out and hop at least three times. Their space allows them to display all the great natural behaviours our rabbits have including:
What do my rabbits need in their enclosure?
Our rabbits' environment needs to support their other four welfare needs. Therefore, they need some important extras in their housing: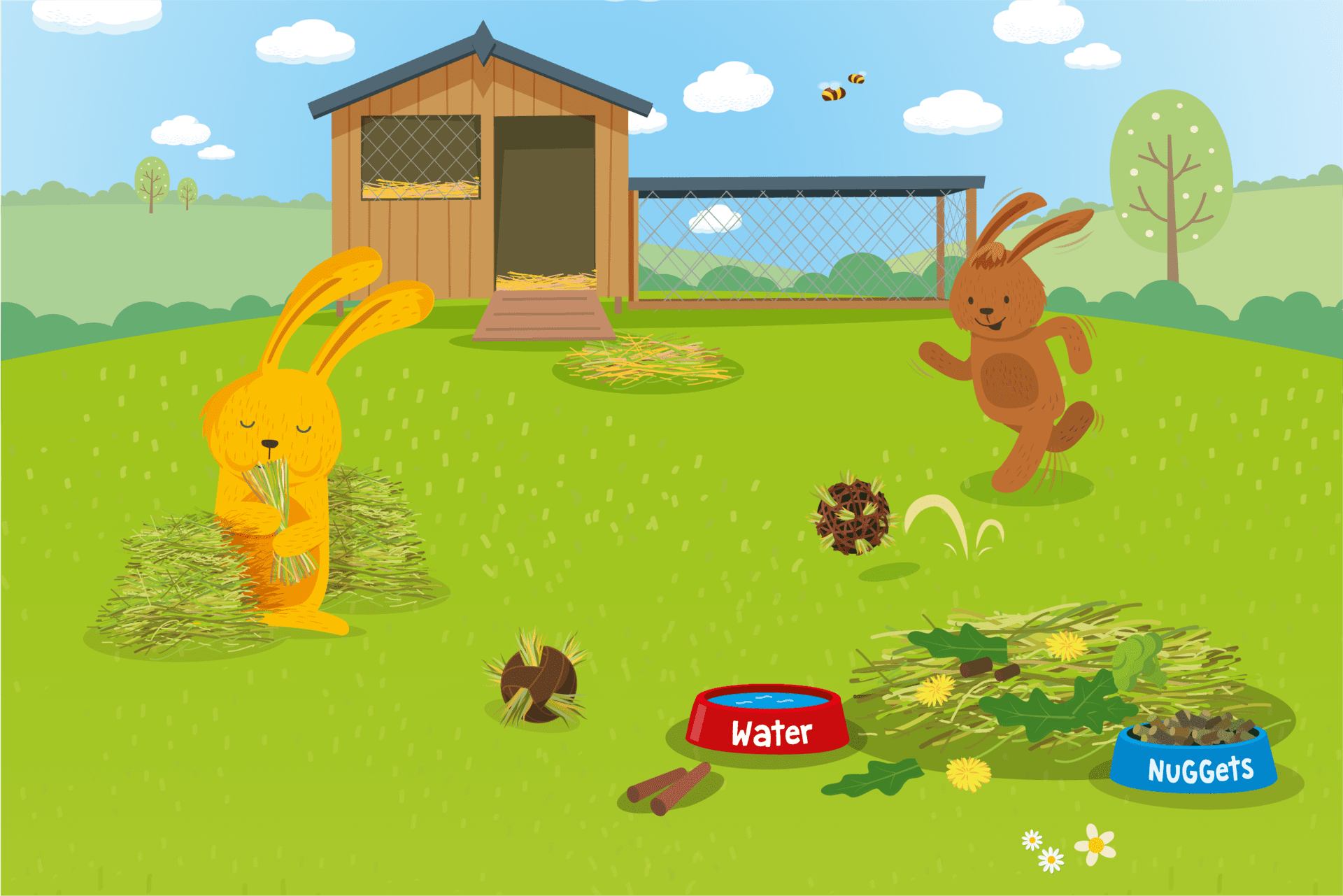 Rabbits are prey animals – they need places to hide
In the wild, rabbits are prey animals so they're always on the lookout. Our pet rabbits are no different. They need a rabbit house that makes them feel safe and secure with lots of hiding places. They may want to hide when they're feeling unwell, stressed, scared, or need some time alone. Some great examples of hiding places are:
Make sure every hiding place has two entrances/exits so your rabbits don't feel trapped. And that there is at least one for each rabbit – ready for when they want some time apart.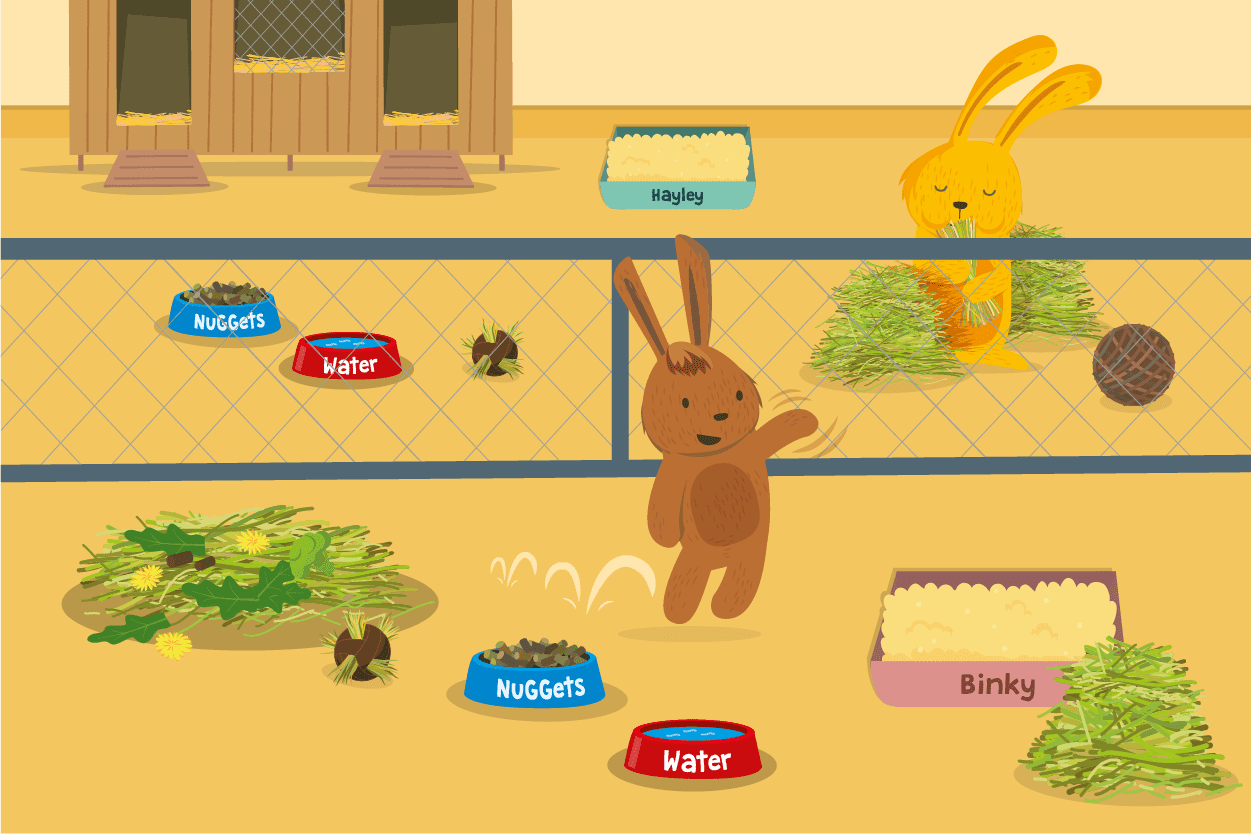 Our rabbits are very clever! To help us owners meet their behavioural needs we need to provide them with things to enrich their day-to-day lives. Enrichment for rabbits can take many forms, including:
The best toys for rabbits don't necessarily need to be the most expensive. You can make homemade rabbit toys with household items! For example, shredded paper in a cardboard box can provide endless fun. Or stuffing an empty toilet roll with tasty feeding hay and some healthy forage helps encourage your rabbits to display their natural foraging behaviour.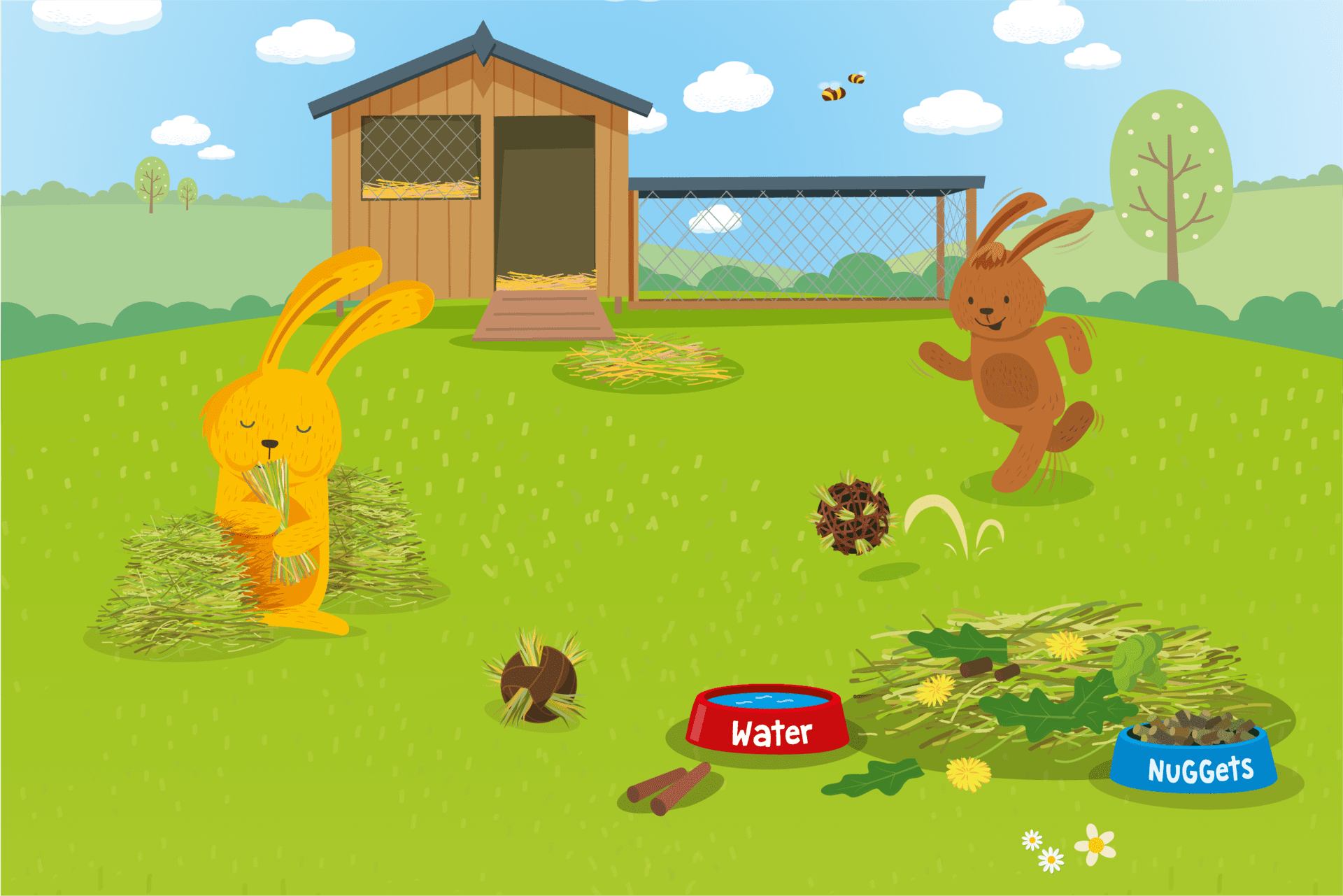 Give your rabbits constant access to lots of high-quality feeding hay or fresh grass
85-90% of your rabbits' diet should be high-quality feeding hay or fresh grass. There are lots of options to choose from, for example, Burgess Excel rabbit feeding hay. The easiest way to make sure they're getting enough rabbit feeding hay is to give them constant access around their housing.
Hay racks are a good option for rabbits. Rabbit hay racks can be hung around their housing or can be freestanding, and they encourage your rabbits to reach for their hay. You can choose wooden hay racks, or metal, and can pop as many as you like around their enclosure. You can create DIY hay racks using cardboard boxes or baskets and filling them with tasty feeding hay for rabbits.
You can also put feeding hay into piles around your rabbits' housing. They'll enjoy burrowing into their hay and chewing their way out.
As well as lots of tasty feeding hay, don't forget to give your rabbits constant access to clean, fresh water.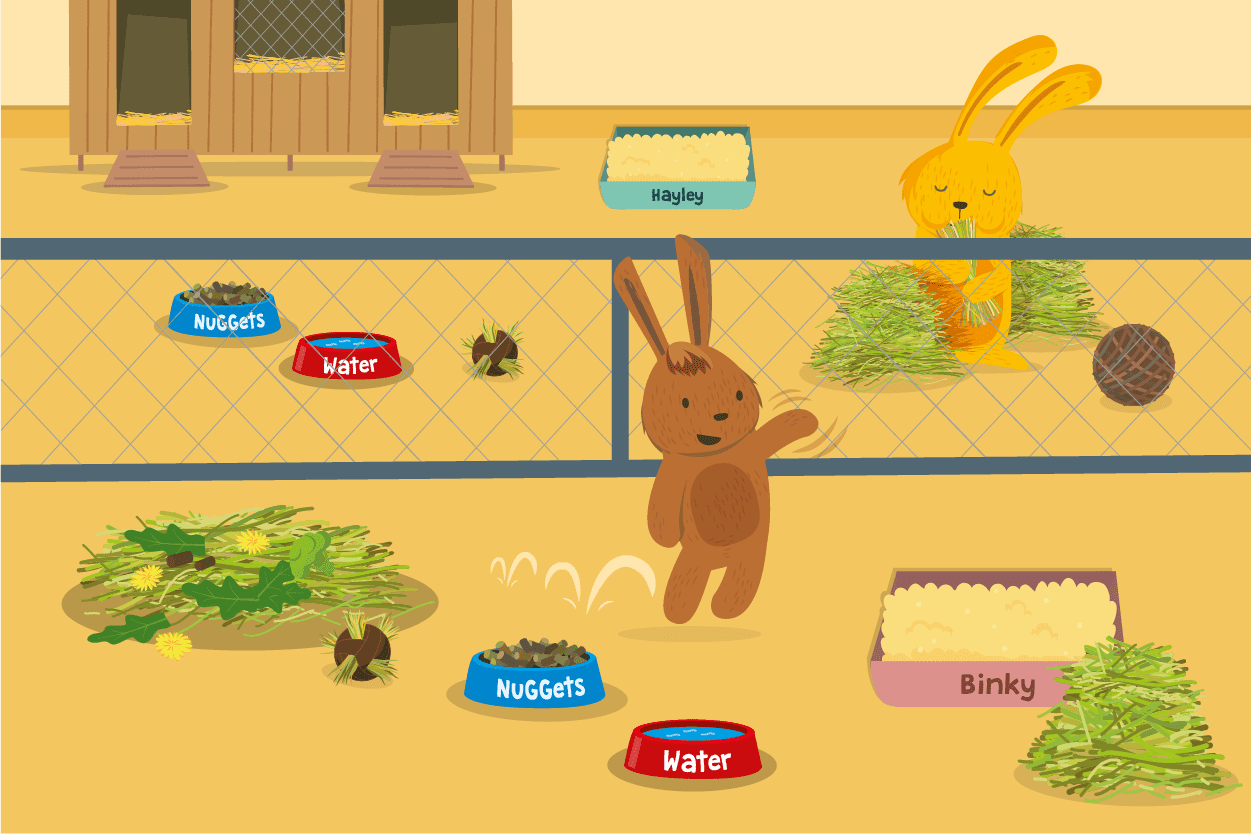 Rabbits love to poo and chew!
Make sure your rabbits' sleeping area and toilet area are separate in their housing. Rabbits like a clean environment, so they'll appreciate having areas dedicated to each. For the rabbit litter tray, use newspaper, hay or straw, or paper-based litter. Often rabbits like to chew while they poo. Place a hay rack or pile of hay next to their litter tray if they get a bit peckish.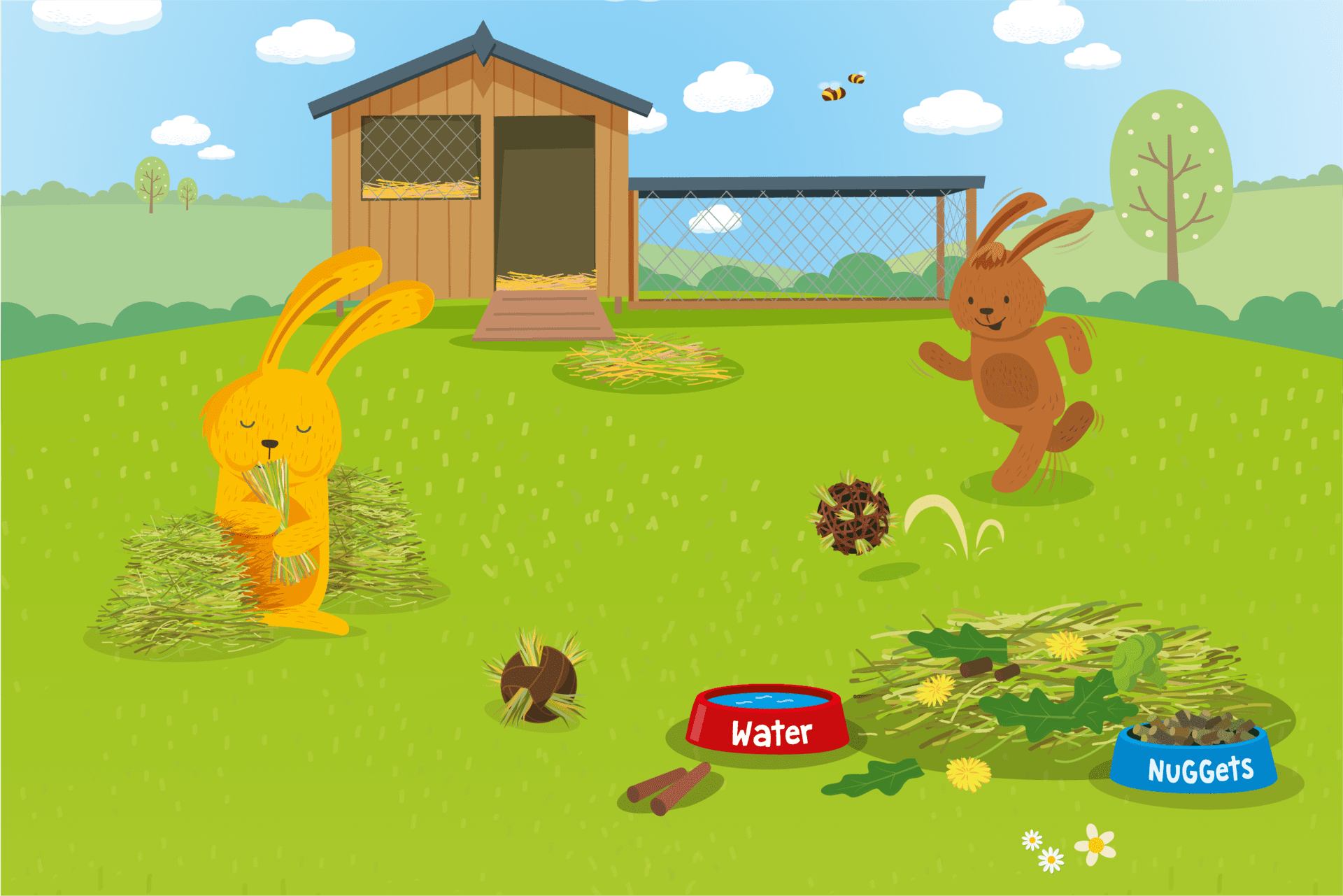 Give your rabbits a great night's sleep with a cosy sleeping area
Rabbits are crepuscular animals. This means they are most active during dawn and dusk and often have naps, rather than one long sleep. Pet rabbits typically sleep for around eight hours a day so need a cosy sleeping area to cuddle up in! Your rabbits' sleeping area should be warm and dry, and away from any draughts. Use a rabbit-safe bedding, like paper bedding, such as Burgess Excel Nap and Nest, or dust extracted bedding straw to create a comfy bed.
How to clean your rabbits' housing
Your rabbits' entire housing will need regular cleaning. This includes cleaning their rabbit hutch, or sleeping area, and their attached exercise area too. Rabbit safe cleaning supplies are readily available online or at most pet shops.
Do a quick spot check every day, throwing away wet or dirty materials, including bedding and uneaten food. At a minimum, each week remove and replace all their litter and bedding materials. Complete a more thorough clean and remove any waste or droppings from your rabbits' housing. Once a month, give your rabbits' enclosure a really thorough, deep clean. Take everything out and use a rabbit friendly cleaner to give their housing and enrichment resources a clean. Replace with clean, fresh bedding, feeding hay, and water.